Kayaking tour at lake Studen kladenets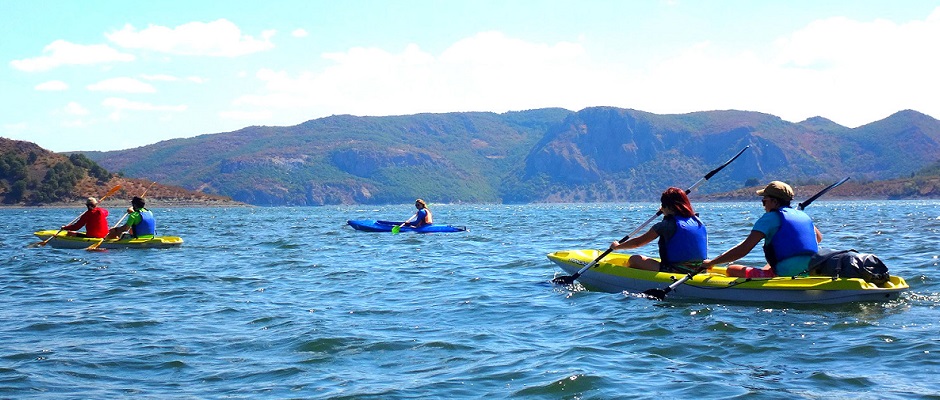 Duration: 6 Days (approx.)
Location: Kardzhali
Product code: KAYAKSTKLAD
About
The authentic history, scenery and unspoilt nature of the Eastern Rhodope Mountains makes this 5 day kayaking experience into a great adventure. The absolutely stunning Studen Kladenets lake is the perfect spot for kayaking tours.
Highlights
• Kayaking tour guided by a professional guide
• Experiencing the natural wildlife of the Rhodope mountains
• A visit to the ancient Thracian city of Perperikon
• Full board meals and accomodation at a lovely rural cottage
Description
Day 1
We depart from the city of Kardzhali to the starting point of the kayaking trip - lake Studen kladenets. All overnight stays will be in a lovely rural cottage.
Day 2-4
Every day will let you experience the divine beauty of the Eastern Rhodope Mountains and its rich history. Wildlife diversity is one of the highest in Europe - here is the kingdom of the birds of prey. The kayak experience in day 2 will surprise you with a spectacular setting of dramatic green slopes, Thracian remains of prophecies and majestic fortress walls on top of the mountain hills.
The blue lake water and its surrounding picturesque shores with rich flora welcome you to jump into the kayak and paddle away. Rare birds like griffon vultures and black storks roam the skies. Many herons and cormorants will also share this adventure day in the lake. You will arrive on the shore of a small island where dozens of fallow deer roam freely. This is a land of absolute peace, managed by nature itself. The highlight of this day is a romantic waterfall with fresh clean water and a couple of great swimming spots.
The amazing start of the fourth day will charge you up with energy for its remainder. Outstanding bird life, majestic rocks, and green forests. Idyllic chapels with magnificent views and the impressive walls of the lake are the highlights of this tour. For this last evening and all other days you can enjoy the view from the lovely cottage with organic meals and friendly hosts.
Day 5
On the last day of this unforgettable kayaking adventure you will visit the Thracian city of Perperikon to discover more about the history of the eastern parts of the Rhodope Mountains.